Enrolments & Term Dates for 2021
This notice applies to the following schools, all of whom have authority to operate enrolment schemes to prevent overcrowding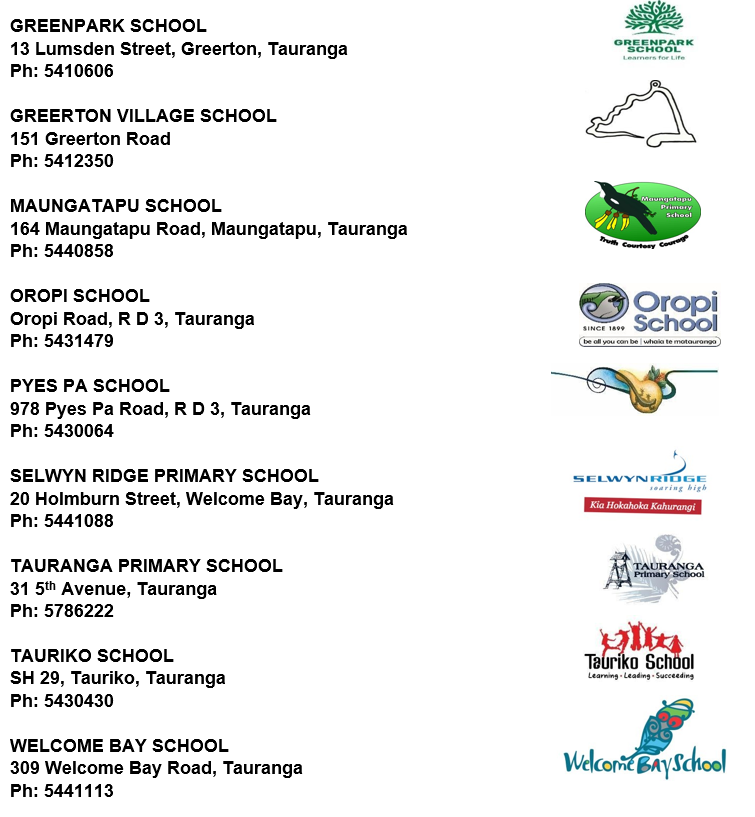 The boards of the above schools invite applications from parents who wish to enroll their children at the above schools for Terms one, two, three or four of 2021. Details of the enrolment schemes are available from the relevant school office in every case.
Ballot application forms are available for completion at the relevant school.
The deadline for receipt of applications for out of zone places for ALL YEAR LEVELS in each term is as follows:
Term 1: Thursday 22 October 2020, with ballot if needed Friday 23 October 2020
Term 2: Thursday 4 March 2021, with ballot if needed Friday 5 March 2021
Term 3: Thursday 27 May 2021, with ballot if needed Friday 28 May 2021
Term 4: Thursday 19 August 2021, with ballot if needed Friday 20 August 2021
Parents of students turning five, who live within the home zone and intend enrolling their child at any time during 2021, should notify the appropriate school as soon as possible to assist the school to plan appropriately for 2021.
The exact number of places available at each school will depend on the number of applications received from students who live within the school's home zone.
Individual schools will advertise the likely number of places available through Newsletters, Website and Facebook for each term as follows:
Term One: Between 21 – 25 September 2020
Term Two: Between 8 – 12 February 2021
Term Three: Between 3 May – 7 May 2021
Term Four: Between 26 – 30 July 2021
Applications from out of zone students will be processed in the order of priority according to the ballot application form.
The following school operates an approved special programme, for which enrolment is controlled by particular criteria stated in the enrolment scheme of each school.
Maungatapu Maori immersion programme (Open for applications)
Parents will be informed of the outcome of the ballot within three school days of the ballot being held.
Principals:
Gareth Scholes Greenpark School
Kimberley Henderson-Ginns Greerton Village School
Tane Bennett Maungatapu School
Andrew King Oropi School
Blake Carlin Pyes Pa School
Craig Price Selwyn Ridge School
Fiona Hawes Tauranga Primary School
Suzanne Billington Tauriko School
Jamie De La Haye Welcome Bay School
TERMS AND DATES 2021
• Tuesday 26 January Greerton Village School Office Open
• Wednesday 27 January Greerton Village School Office Open
TEACHER ONLY DAY
• Thursday 28 January Greerton Village School Office Open
TEACHER ONLY DAY
• Friday 29 January Greerton Village School Office Open
• Monday 1 February Auckland Anniversary Day-SCHOOL CLOSED
Term 1
Tuesday 2 February – Friday 16 April
Tuesday 2 February – School starts for all students
Monday 8 February – Waitangi Day – SCHOOL CLOSED
*Good Friday 2 April – SCHOOL CLOSED
*Easter Monday 5 April – SCHOOL CLOSED
*Easter Tuesday 6 April – SCHOOL CLOSED
*ANZAC Day – Monday 26 April – falls within the Term One Break
Term 2
Monday 3 May – Friday 9 July
*Queens Birthday – Monday 7 June –SCHOOL CLOSED
Term 3
Monday 26 July – Friday 1 October
Term 4
Monday 18 October – Tuesday 14 December
(School finishes at 12.00pm)
*Labour Day – Monday 25 October- SCHOOL CLOSED