Learning at our School
We are very proud of our school; our learning community of students, teachers, staff, Whanau and our wider community. Critical to the success of our school is Whanau and community involvement.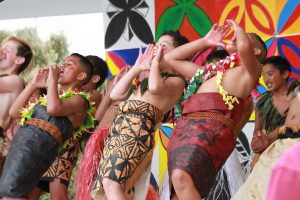 Celebrate
Our uniqueness and cultural diversity is consistently accentuated and celebrated and we share these along with our expectations, which include the National Standards, for all to be given every opportunity to be engaged and to succeed. At Greerton Village School people come first and we never give up on anyone.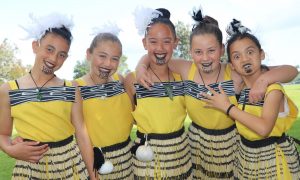 Hauora
We are talented quality educators who accept professional responsibility to provide the very best we can to ensure the ongoing learning and well-being of all our students. We love and value children, love and enjoy teaching, make crucial learning decisions and are all committed to working together to enhance and strengthen the Hauora/Wellbeing of all.
Our School Logo
Karanga Tamariki ki Te Ako*
The Greerton Village School logo depicts the school bell which has been our symbol for many years, with the conch representing a merging of cultures, binding together. – calling children to learning*
Learning Teams 
Our Junior School which will be known as : Te Rau Aroha – The first leaf on a new plant, leaf of love and our Senior School which will be known as : Te Māhuri – Established Plant.
Nga Tamariki o Marawaewae – Our GVS Kids
At Greerton Village School we are represented by 8 Kids "GVS (Geeves) Kids". Each GVS Kid has passions and interests across different Curriculum areas.
As well as curriculum areas, the "GVS Kids" also indicate the importance of cultural diversity within our school. Each GVS Kid represents a different culture in which our School is made up of.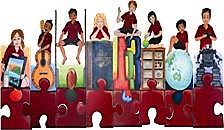 Nga Tamariki o Marawaewae
Our GVS Kids play a big part in positive conversations and expectations we have with our students.When all cultures, passions and values are linked together like a jigsaw we have a warm, positive and safe enviroment where Children, Whanau and Staff feel valued and respected.